Polaroid – ever the innovator – had a great idea! Then, they came out with this really weird camera instead. The I-Zone.
In 1999 you could buy these cameras, and special film, brand new. I think I remember that the little I-zone film packets had 12 instant photos. You could peal the backing off and your photo became a sticker!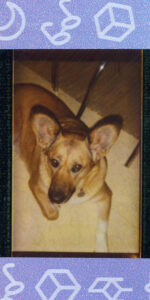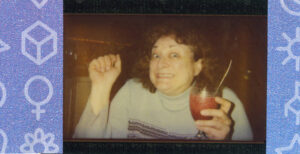 Ok so those were really interesting. (See Terms and Definitions.)
Matt Kirkpatrick decided to stir things up. He sent me a Barbie I-Zone which he had converted into a pinhole camera. Estimating his pinhole to be about ƒ100 and the film speed to be about ISO 640 (but "extremely forgiving"), he wrote, "I've found that using it in daylight everything will blow out in less than 1 second. In normal indoor light 3-5 minutes is good and in dark places like bars and clubs – 15 minutes to hours depending." (Bars and clubs, Matt?) As for actual operation of the camera – "I've rigged the little lever on top to open and close the shutter."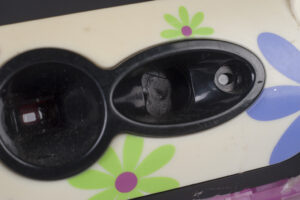 More pics of the camera and film and setting up some pinhole shots.:
Pinhole photos: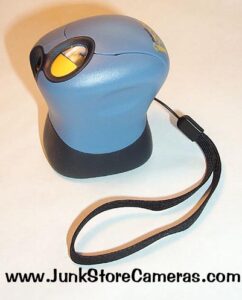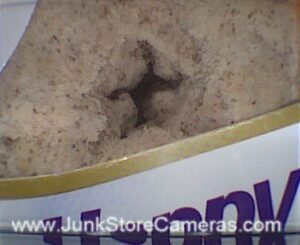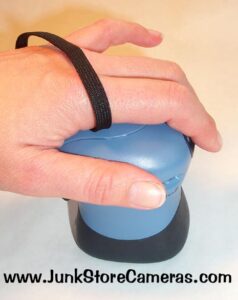 By now (2020) Polaroid I-zone film has all gone to crap. There's a page on the Instructables site that tells you how to convert APS film to use in an I-Zone film cartridge. But first you have to have a cartridge. Then you have to have APS film. Then you have to have a floppy disk to cut up. If you actually have all three of these things, I feel sorry for you.
Just a PSA: