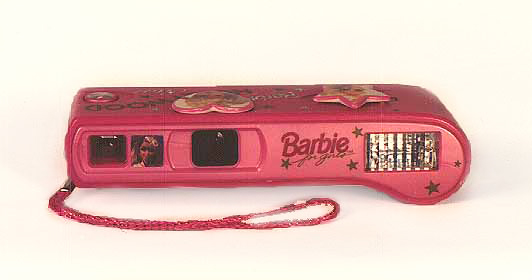 Barbie Hollywood Star Camera:
Once again, Mattel proves, We Girls Can Do Anything! The Barbie for girls Hollywood Star Camera! I picked it up for a song at a Value Village in Olympia. The camera, available in (what else?) Barbie pink, has a flash that is intermittent, but Barbie's lights were never always on anyway. It accepts 110 cartridges. With a couple of double A's, Barbie's charged and ready to go! On the top of the camera is a star shaped button with a picture of Barbie's face on it. (I love her hair!) You slide the button to the left and, if you get lucky, Barbie will let you know when the flash is ready – with her, again, Barbie pink ready light. The shutter release button is a hologram, in a heart shape. Now, let's go to the mall!
You squeeze the top to take the picture. You see, it's got his little steel ball imbedded inside and it trips the shutter. The camera comes with a roll of Barbie 110 film, a photo album and a pretend camera for Barbie. I picked mine up at Wal-Mart.
The Barbie Digital camera with CD "Software for Girls":
This could be a very fun piece of equipment, if I could get it to f'n work! The software takes over your computer and you have to wait for it to run through its spiel every single time you open a file. This, I can deal with … but the fact that it doesn't work and can't tell me why it doesn't work is just a teensy bit frustrating. You know what it's taught me? It's taught me that when things go wrong with a camera that uses film, I can force it to work. I mean, if I need to, I can put the camera in a dark bag to advance the film. I can open the shutter and spark the flash, if the camera refuses to operate on anything but "B". I can pop the lens out and make it a pinhole camera, for cryin' out loud. But a digital camera? When it doesn't work, it doesn't work. If the camera can't communicate with its software, or it's software can't communicate with it, you are simply S-O-L.
On another level, the camera is very sparse in decoration when compared with its film-using sisters. Barbie cameras tend to be over-the-top when it comes to the use of holograms and hearts. I'm attracted to the feng shui of this particular camera design. But there is that little nagging fact that it doesn't work …
I've recently had the opportunity to photograph the original Barbie Box Camera:
I put an ancient roll of film through the "Barbie" box camera:
Click on any image for a larger view:
Four more Barbie Cameras!
But wait! There's more!