Manufactured in Dover, New Hampshire, the Dover 620-A is one of the weirdest cameras I've used. I bought it at a camera show. I bought it because it's weird and four bucks was within my budget. When I carry this camera, I need nothing more  … other than maybe flashbulbs. Stamped on the camera's back is what might as well be its instruction manual. It's an exposure chart, and a confusing one at that. The film advance knob is on the bottom. On the front of the lens are two filters (yellow and portrait) that slide across the lens. See? You don't even need to carry spare filters 'cause they're already attached to the camera. The f stops range from 1 to 5 on a large dial. You turn the dial until the correct number (according to the exposure chart) is displayed in a window below the lens. A wonderfully crazy machine all decked out in bakelite and chrome, it soon rode the skyrocket to the top of my favorite-cameras-of-all-time chart. The images this camera creates with its "normal" lens are fairly nondescript. But the images it makes with the "portrait" filter over the lens appeal to me in their sureality! (I made that word up.) Objects that are close, and centered in the frame, are nicely focused, but the background and sides are thrown into an even, dreamy blur (ok…bokeh).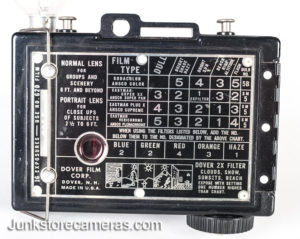 With all of the fancy-schmancy stuff this camera has, the shutter only has one setting. Instant. No "B". Also, the Dover isn't one of those cameras that says it's 620, but will actually accept 120. But I don't mind spending the extra two minutes to re-roll 120 onto a 620 reel when using this camera. It's well worth it! (Here's a link to a how-to video I made regarding re-spooling 120 to 620.)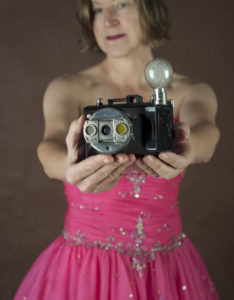 Click on any image for a larger view: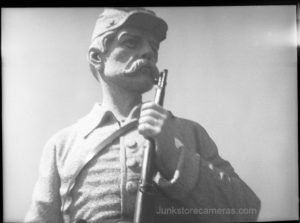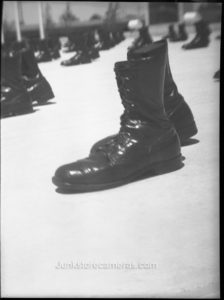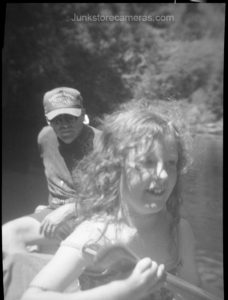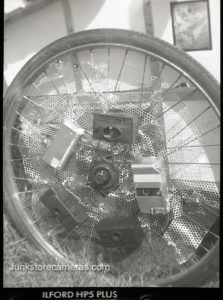 My Dover 620-A is missing its flash reflector. Never thought I'd ever find a replacement. At the PSPCS Camera Show & Swap in Kent , WA in April 2017 Walter Hughson sold me, not only the reflector but another Dover 620-A. The set is pristine!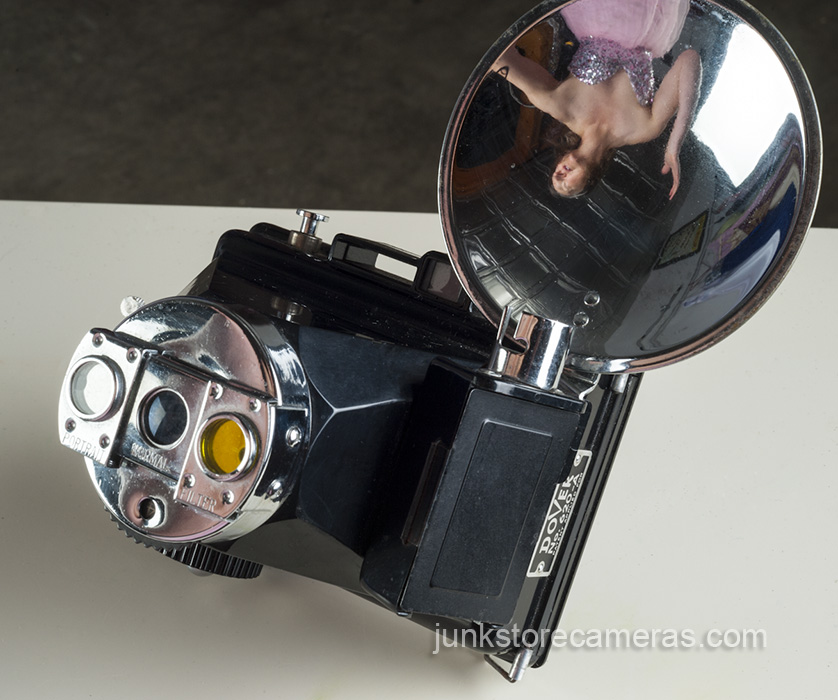 McKeown's PRICE GUIDE TO ANTIQUE & CLASSIC CAMERAS 2005-2006 states, "Dover 620A – c1950. A plastic & chrome camera for 16 exp. 4.5x6cm on 620 film. Body design based on failed "Speed-O-Matic" camera. Somco f9 meniscus lens. 5 rotary disc stops. Single-speed shutter. Built-on flash. $12-20."
But wait. It gets weirder. Meet the Speed-O-Matic:
Knowing that I love the Dover 620 A as I do, imagine my surprise when I came across the Speed-O-Matic while cruising eBay one fateful night. I clicked on the funny sounding name, only to find an incarnation of the Dover 620! Frantically grabbing for my McKeown's, I learned that the Speed-O-Matic was born in 1948. "An instant picture camera with meniscus lens, single speed shutter, extinction meter. Takes 12 photos 2″x3″ on direct positive paper in film pack. A modified design of the same body was later used for the Dover 620 camera." Well, whadya know? This camera came with a developing tank and a sort of a film pack holder. The direct positive paper goes into a film pack that is specially made for the camera. Coincidentally, I recently bought a big pile of darkroom stuff from someone who lives around the corner. With it came a big box full of direct positive developing kits, some direct positive paper packs (okay, they expired in 1958, but you can't have everything), and tons of sheet film in a variety of sizes. I wanted to check the camera out without having to read any instruction booklets. They can be so dull. I'm not yet familiar with direct-positive processing, so I didn't want to ruin any of that stuff. I slapped a sheet of Kodak Royal Pan 2″x3″ film into the back of the camera. The film also had expired in 1958, so I really wouldn't be out much  if it didn't work. I took a photo of one of my favorite subjects – the peeing alien.  The film had fogged (duh). Anyway, the instruction booklet shows about a billion steps you have to go through (actually, nine) to finally see your prints. Then, "Your Speed-O-Matic Camera eliminates the use of negatives by producing pictures directly on Speed-O-Matic film paper which produces an image similar to you viewing an object in the mirror. This is known as reversal process. We suggest that you avoid backgrounds with lettering or numerals." Makes you wonder how Polaroid ever got the leg up on this company?