I was working on my taxes. Had the St Jude and the guardian angel candles lit…tax time is such a pain! Half way through, I decided to take a break and go for a walk. I selected the Baby Brownie Special as my walkin' partner. A closer look revealed just a bit of scum on the inside of the lens. Me: "I'll bet if I put a piece of cloth on the end of a pointy stick, I can open the shutter, poke the stick in there and wipe that scum off." That way, I wouldn't need to entirely disassemble the camera for cleaning. At the time it seemed like a good idea. Yeah. You guessed it. The piece of cloth came apart and ended up inside the lens assembly. So I had to take the camera apart anyway. I went for my toolbox. Not noticing that it was upside down, I slid the toolbox out of the cabinet. Crash! Suddenly there were tools everywhere! So much for a short break. But, it was taxes. Bluck!
This tiny (3 1/4″ wide x 3″ tall) camera takes eight images on a roll of 127 film. It gives that oh-so-desirable edge distortion, with the center of the image remaining in focus. It has a cute little white pushbutton shutter to the side of the focus free lens. No "b" setting. The white film winder knob and shutter release add striking contrast to the camera's black Bakelite body. With a nifty little braided handle as an accent over the top, this camera has classic lines to match any outfit. The metal pieces on either side, where the handle is attached, push downward to unlock the back of the camera so it can be removed for film loading. The film glided smoothly through the camera from beginning to end.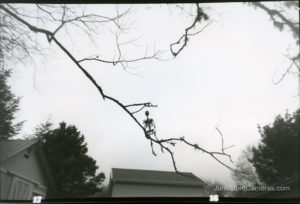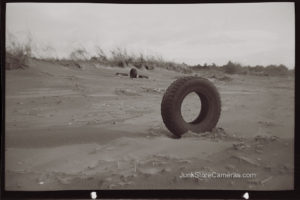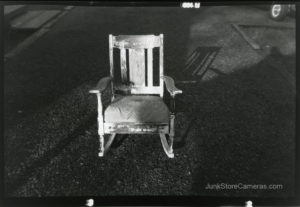 At the Dixieland Flea Market in Pontiac, MI I was flabbergasted to find this most fantastic paperweight! It's glass that's been sand cast. Someone stuck a Baby Brownie Special into sand to make the mold, then poured glass into it. The paperweight says "ACME" on it, but I can still read Baby Brownie Special on it.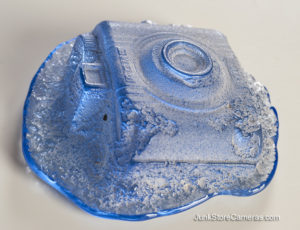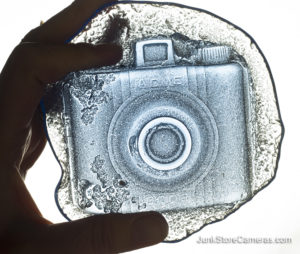 I've embellished a Baby Brownie Special, turning it into a SPECIAL Gala Edition camera. Perfect for that evening out!