In the mid 1990's we were driving to Alaska in an old beater Ford pickup, stopping here and there along the way. One of our stops was a junk store in Spuzzum, British Columbia. It was fate. It was kismet. It was absolutely meant to be. I can't describe to you the importance of that moment in my life – and not just because I'm a poor writer. I can't describe it because it was bigger than … than …  something real big!
In that junk store on that fateful day, I came across a little tin camera. That camera started an obsession. It was the little tin Rocket Camera that got me to thinking, "I wonder if I can get this thing to work? I WONDER what sort of photos it would take?" I bought it and so it began. From that moment on, I began finding box camera, plastic cameras, toy cameras, you name it – all from junk stores. Junk Store Cameras. This particular camera was in a little bit better shape when I purchased it. The Rocket uses 120mm film, 16 shots per roll. It had a spider's nest in the shutter mechanism. Once this was removed, it worked fine. I found it had many light leaks and needed to be taped to close them up. It wasn't long before attaching and removing the tape ripped the paint right off of it.
It has "i" and "b" settings. "i" being a single release of the shutter and "b" being bulb. This economical viewfinder camera sports a focus free glass lens. The images the camera creates have a smudgy blur around the edge, giving each a sort of nightmarish feel. Not a grownup's nightmare, but a child's nightmare- the really scary kind. When photographing with the camera, you need to remember where, within the image area, the point of focus is. The tin rangefinder on the top of the camera is tiny. Much tinier than the actual image area.The shape of the image on the film is like that of a bed sheet, hanging out to dry on a clothesline.
McKeown's Camera Guide tells me this camera was manufactured in Japan in 1955.
Year before last I was perusing the PSPCS Camera Show in Kent, WA when I came across another tin Rocket Camera , unused in the box! My heart stopped! Fifteen bucks and I didn't even dicker. I was walking on cloud nine for the remainder of the show and on into, well, probably into the now. The pristine Rocket:
Forever near and dear to my heart, the original elegant little tin machine and I have quite fallen in love. We plan to marry in the spring …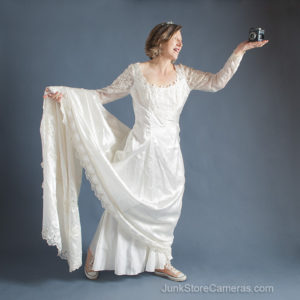 We'll probably honeymoon at Bryce Canyon, UT: