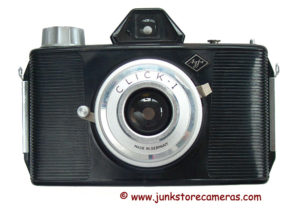 Not as cliquish (get it? clique-ish?) as the Dianas and way more reliable, the Agfa Click-I camera takes 12 square images on 120 film. I bought this Click-I for $2.99 at the Seattle Goodwill. It came with a nifty brown vinyl case & shoulder strap.
    I got this call from Orla at the Raleigh-Durham News & Observer. She's writing a piece on traveling with toy cameras. I call 'em junk, she calls 'em toys. That's okay. I'm trying to sound professional and like I know what I'm doing and have a vision and stuff like that, when I see the FedEx Ground truck pull up. Shit! I've been waiting for those book covers! So I start to take the phone out to the driveway with me to talk to her at the same time that I greet the FedEx guy. I completely forget about THE DOG. THE DOG flies past me nearly knocking me over at the gate, hackles up, giving her worst snarling dog imitation. This is the same dog who's afraid of small kittens and benign sacks of flour sitting in the hallway. Her vicious bark is blasting down the phone lines … meanwhile the poor FedEx driver is yelling, "Control your dog!" over and over and using the package as a shield. Orla asks, "Would you like me to call you back?" Very embarrassing on a lot of fronts.    What I've found since then is that you can go online and send apologies to FedEx drivers. Orla & I did speak again and I think her piece ran in an October issue. Anyway, we talked about what I'd told her at the time was an Agfa Clack. Hold the presses! I don't have a Clack! It's a Click! And a Click-I to be exact. Oh well. I emailed her back.
    Made in Germany, the Agfa Click-I sports an internal yellow filter along with both cloudy and sunny settings. There is no "b" setting. The Click-I feels good in my hands, and I can definitely do without the vinyl case. The plastic viewfinder is somewhat accurate.
Click on any image for a larger view:
McKeown's PRICE GUIDE TO ANTIQUE & CLASSIC CAMERAS 12th Edition 2005-2006 states: "Click-I –  1958-70. Simple plastic eye-level box camera for 6x6cm on 120 film. Meniscus lens, single speed shutter. Common. $5-15."