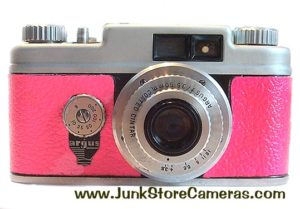 Marcy's Argus 21 Camera Review:
It's been said that many professional photographers cut their photographic teeth using an Argus camera. Well, I broke a nail once. This particular Argus 21 came to me via eF**. From the moment I laid eyes on him, I knew he wanted to party! He was busting out of his conservative black leatherette. He'd been in the closet (literally) for way too long and was ready to stand up and be noticed! I'd found this fabulous fluorescent pink vinyl at JoAnn Fabrics.[ Why is it that, while they're cutting your fabric, they always ask, "Whatcha makin'?" I simply answered, "Pants."]
He no longer wants to be called Mark Finder. She wants you to call her Michelle.
The lens is removable. With a "b" setting and shutter speeds from 10 – 200, I found the Model 21 … I mean, Michelle… easy to use. EXCEPT for the fact that you gotta wind that little film advance knob. You wind and wind and wind … and it's kinda small and hard to grasp. Then, when the roll is finished, you gotta wind and wind and wind the rewind knob.
Mine came with a leather case, about which the instruction manual states, "The Argus Model 21 carrying case is made of the finest quality saddle leather, beautifully stitched and tailored to the camera for a perfect fit. You'll be proud to carry your Model 21 in it. An Argus carrying case protects your camera from hard knocks …"