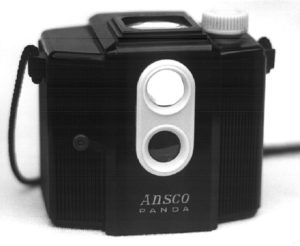 This dear, sweet camera resides in a spot close to my heart. Years ago, some friends of mine were having a discussion about online interest groups and how you can make a group for anything and folks will join. From this discussion the original Ansco Panda group was created on Yahoo. Folks did join.
I believe this camera was another eBay find, but I can't really remember. It says it uses 620 film and…uh…yup. I used 620. Got twelve exposures that are slightly larger than 2 1/4″ square. This twin lens camera has a shutter release lever and, well, that's about it. No "b" setting…no sunny / cloudy. Nothing. The big square viewfinder on top shows a little less image than what is recorded on the film. There were a few light leaks, but this may have occurred because the film wasn't wound tightly onto the take-up spool. Typical junk store camera problem. The light leaks weren't anything to worry about though. (Are they ever? I mean, don't you just consider them as adding character?) A note about the images: When I photograph with my junk stores, I'm not necessarily looking for award winning photographs. (Although some of them actually have won awards!) Oftentimes I'll photograph something merely to figure out where, within the image area, the point of focus lies. I mean, the tractor tire below is a friggin' tractor tire, for cryin' out loud. Though that is an image of the Lord of Darkness in my living room. Yeah. And if you believe that, you probably believed that awards thing too. Anyway, the image of the rope with telephone lines in the background; an example of  locating focus, near and far. Without a "b" setting, the Undertaker under low light was a tricky shot to make. I assume my junk store cameras to have about a 1/60 – 1/125 shutter speed at about f8. So, I steadied the camera and released the shutter 30 times, wound the film, then released the shutter 60 or so times…until I'd finally made an image with 125 releases of the shutter (assuming this to be an exposure of about one second, right?).  It wasn't as tough as it sounds, but I did have to stop a couple of times because I was laughing at myself and was worried I would jiggle the camera. Which reminded me of one time, after spending 45 minutes searching for the controls for the hot tub jets at a rental cabin, someone referred to me as "tenacious as a raccoon." While clicking that shutter, I was reminded of this. The person that said it was from Minnesota, so I would imagine they know something about raccoons.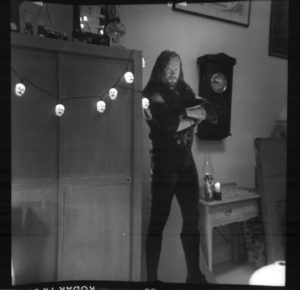 McKeown's PRICE GUIDE TO ANTIQUE AND CLASSIC CAMERAS states, "c1939-50. Small black plastic TLR camera with white trim for 6x6cm exposures. Ansco's answer to Kodak's Baby Brownie cameras. $1-10."
We took a drive along the Columbia River. I'd left a trimmed 120 spool in the camera. I assumed I could trim the 120 Superia down, rather than re-spool it onto a 620 spool. Sooo…there I was, trying my darnedest to advance the stupid film, cursing to high heaven because it was jammed. Bob asked, "What exposure are you on?" It was 2. He then asked, "How many exposures are on a roll?" I answered 12. He said, "So I have to go through this ten more times?" … The Portra UC that's in the camera right now is re-spooled onto a 620 spool.
Here's a link to how to respool 120 film onto a 620 spool.