Doesn't everyone have a pile of Shur Shot box cameras? Sometimes they're Ansco, sometimes Agfa. The graphics differ as do the limited features. The Agfa Ansco Corporation introduced the Shur Shot camera in 1932. One model had a 6×9 cm frame. Another model, with a smooth front, had a 6.5×11 cm frame. That same year, Ansco introduced the Shur Shot Special, with a 6×9 cm frame area.The Ansco Shur Shot and Shur Shot Junior (both with a 6×9 cm frame area) were again introduced in 1948.
I've found a few with exposed film inside. Always an adventure! Well, the results are below. I doubt any of the images will break the internet.
McKeown's PRICE GUIDE TO ANTIQUE AND CLASSIC CAMERAS (2001 – 2002) has this to say about the Ansco Shur-Shot, "c1948. A basic box camera with vertically-striped aluminum front. Perhaps the most common to the Ansco box cameras. $1 – 10."
and… about the Agfa Shur-Shot Regular,"c1935-41. Made in USA by Agfa Ansco. Common box cameras, made in B2 (120) and D6 (116) sizes. Hinged masks at focal plane allow full or half-frame images. Earlier type, c1935, has black faceplate with rectangular art-deco design. Intermediate type, c1938, has dark face, light vertical band and concentric circle around lens. Later type, c1940, has light faceplate with Agfa rhombus below lens. $1-10."
and… about the Shur-Shot Special, "c1935-41. Same as Shur-Shot Regular, but with built-in closeup lens. Early type, c1935, has black art-deco faceplate has vertical band of 30 narrow stripes, flanked by three stars on each side of lens. Later, c1939, has light face with U-shaped band of 6 then black stripes. $5-15."
The found images:
I got in my own licks: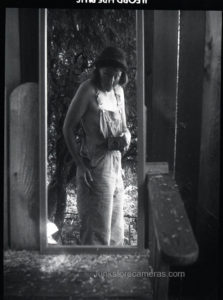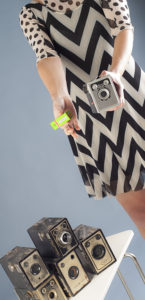 Check out my Box Camera Basics page for tips on film loading, etc.
And – here's a link to a how-to respool 120 film onto a 620 spool.