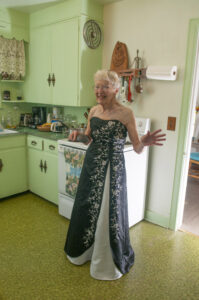 She was born Sue Ellen Scales in the farmlands of Ohio on January 12th, 1931 to Helen (Armstrong) and Rufus Scales. The first of five children, Sue excelled in school. She and her siblings were involved in every possible extra curricular activity. As she put it, "There were so few students in the class, if we didn't participate there would be nothing." Sue did well in many areas but especially enjoyed art. She attended DePauw University and it was there that she met Fred Howard. Sue received a bachelor's degree in fine arts and, attracted by Fred's mad ping-pong and rock star rock-skipping skills, she married him in 1953. The young couple did the Midwest circuit during their first few years, Fort Wayne, Fort Knox (while Fred was in the Army), Flint … having three children along the way. They eventually settled down in Ortonville, Michigan where they lived in the same house on Ball Street for the next 60 years.
After marrying Fred, Sue's sarcasm reached its brilliance. She honed her expertise in the backhanded compliment to an innocuously sharp point. She apologizes posthumously if she offended you. Consider this: If she loved you, she ribbed you. And she loved a lot of people. Sue loved opera, and could answer every question asked on the Texaco Opera Quiz. In the 1970s, she enjoyed working the concessions counter at the Fisher Theater in Detroit, where she got to experience many Broadway productions, plays and musicals.
Sue taught art for the Brandon School district for six years and, as there was no official art room, she pushed her "art cart" down the hall and into each elementary school classroom. After her art-cart stint, Sue taught private art lessons. Young and old came to her home to learn composition, painting, drawing, and to work with clay while NPR broadcast in the background. A former student stated recently, "I see beautiful creations and colors because she took the time to teach me to see them." Sue was also known for her many pen and ink drawings of local homes, businesses and historic buildings. She enjoyed going to the grocery store and hearing former students greet her with, "Hello Mrs. Art Teacher!"
Sue completed New York Times crossword puzzles in record time – even the Sunday edition! She was a wiz at Sudoku and you could not challenge her word in Scrabble and expect to win.
Sue was Brandon Township's Citizen of the year in 2007.
Her faith was very important to her and she was a member of the Ortonville United Methodist Church for many years. Sue devoted her life to ending hunger and was a co-founder of OCEF and volunteered for the CROP walk.
As time went on, Sue had to give up things such as her ability to work with clay. She eventually gave up painting. An avid reader, when Sue's macular degeneration made reading difficult, she said her job now was to observe. She turned her attention to the lake on which she had lived for nearly 60 years. The lake and its surroundings had changed over time – slowly at first, then more quickly. Then MUCH more quickly. But always, there was the soap opera of nature which she would regularly report on – muskrats, birds, herons, owls, stray cats … the usual characters playing out their roles before her eyes, in her backyard.
Sue wrote:
The flowers, joyously alive,
neither know nor would care
if they knew that the man
with a sign " The end is near"
holds the truth in his hand.
The pink tongue of the
thirsty cat shatters the
sky reflected in a
saucer of water.
How beautiful, how fleeting,
how eternal life is when
I forget time for a moment.
and then I take another
breath on the way to what comes next.
Sue Howard passed away on April 25, 2023. She was preceded in death by her husband Fred, her siblings Bill, Sally, & Jane, and her beloved cat "Shorty". She is survived by her brother John (Karen) Scales, her children Mark (Toni) Howard, Heidi Keesling and Marcy (Bob) Merrill. She also leaves behind 4 grandchildren and 3 great-grandchildren.