[Tangent alert: No photography/camera stuff in this post.]
There's a universe in a Petoskey stone. Growing up in Michigan, Petoskey stones were the holy grail of fossils. When I was a kid I could spot a Petoskey stone at 50 paces. My dad marveled at my Petoskey spotting skills. Years later, I realized my Petoskey prowess was merely due to the fact that I was a child, closer to the ground and with clear vision. Having lived in Washington state for many years now, I have only recently been reunited with the Petoskey stone. My folks still live in southeast Michigan so there's reason to stay away … I mean VISIT! There's reason for me to visit. During one of my visits, I don't remember how or why, but I ended up in Petoskey . Maybe I entered the state from the north? Maybe I was cruising around taking a break? At any rate, I remembered the stone and the name … and ended up walking the beach at Petoskey State Park. It was cold and windy, as the waves lapped the sand, those stones were everywhere. I had a plastic grocery bag and my pockets. That's it. But that was enough. It sparked a memory and I stuffed my pockets. A couple, walking in the opposite direction, asked, "Having any luck?" They had such confounded looks on their faces, as if the beach had conquered them. I was, like, "Fuck yeah!" Then I went back to my room and poured out my plunder. Everything had turned to a dull, dry gray. Somewhere inside were my fabulous Petoskeys. Finding them made me feel like a kid but this pile sure looked like  … bleh.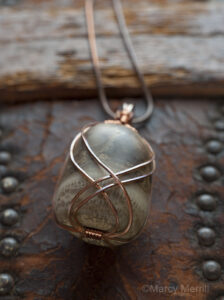 Oh wait! I remember! I'd flown in to Detroit and had a rental car. I ended up at a place called the Terrace inn in a town near Petoskey. There was only so much I could pack in my return suitcase and I hadn't counted on rocks. So I kept my plunder to a minimum. Meanwhile, I do this thing … I rock tumble. DON'T tell anyone! My friends will expect me to begin making those cut-out petticoat garden figures out of plywood. Anyway, I tumble rocks in private, okay? I threw these Petoskeys in the tumbler all happy-go-lucky like. (I believe I just heard a collective sigh from my Petoskey Stoner friends.) Well, I tumbled those stones into nothingness. So began my foray into Petoskey tumbling. They're soft and porous and can't be tumbled like regular rocks. They're special. I had enough left to experiment with and, after doing research, I experimented. From that first batch I ended up with one perfect stone. My friend, Sharon, wrapped it in copper.
I came away with a better idea of how to attack my next Petoskey haul. This exposure to the beauty that northern Michigan holds also sparked a curiosity in my home state that I hadn't experienced before.
Visit # 2: I'm a runner. I run and I'm kind of collecting bridges. One day it occurred to me to wonder if they ever run across the Mackinac Bridge? So I did that. I stayed at an Airbnb in Petoskey and ended up staying up well past midnight, engrossed in conversation with the Airbnb's owner. Good times! Another cold and windy visit. This bridge run was an excuse to visit Petoskey and I came away with [what I consider] a great haul. Since I'd worked on perfecting my Petoskey tumbling skills, I ended up with a better outcome.
Nerding out on fossils: Click on any image for a larger view (but mind, if you click, YOU definitely are a rock nerd). I think you gotta click twice to get a really large image:
Okay so then came visit number three. I drove my camper-topped car across the northern plains. I got sick on my way to southeast MI *cough*  *cough* . Not wanting to bring this contagion with me to my destination,  I camped at Petoskey State Park to wait it out.
This past summer I found a Thumler's Tumbler at a yard sale for $5. I polish my Petoskeys to a nice luster. Not high gloss, but lustery. Here's my secret recipe for lusterishness: 2 days in 220 grit. 2 days in 600 grit. 12 hours ( or so) in soap. That's it. Tweak it for the more or less porous stones.