A friend gave me this camera. She was going through a major life change – divorce & moving out of the state. Anyway, she stopped by before she left. She told me she had a camera for me and began to wax emotional about how her father had given her this camera when she was in high school. She'd taken the camera to Alaska and then to… – "JUST GIVE ME THE CAMERA!" I yelled!   Okay, I didn't yell that.
Measuring a mere 3 3/4″ wide and 2 5/16″ tall, the flash mount is on the bottom. This camera is so darn cute.  Two dials on the front set the ASA and the shutter speeds, which range from "B" to 500. The flash synchs at 500, which is pretty cool. The lens is a Sonnar 2.8 / 40. The lens assembly pops out, then clicks into place. Unfortunately, the built in meter doesn't work. Rats!
The battery holder says it accepts a Mallory PX27 or Varta 7150 ["5, 6 volt"]. Batteries Plus cross-referenced to an Exell S27PX,which is a 6 volt.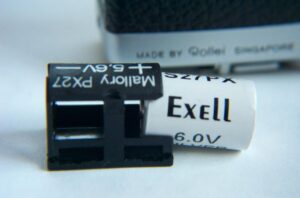 I put a roll of slide film through it, using a hand held meter that's larger than the camera to measure exposure. :
Over the years I've grabbed this camera, not because it's easy to use but because it's easy to carry.
I owe my friend, Philip, a huge debt. Just before he passed away he gave me his camera collection. Within this collection was a Rollei 35.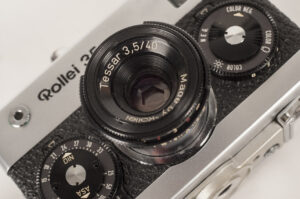 It had an exposed roll of Fujicolor 200 inside. Here's what he shot:
It's getting me in a holiday mood! My new Christmas carol: "All my Rollei friends are coming over tonight!"