Of late, I've not only finished major projects, but have also started off in a new direction. I'm creating assemblages using a mix of alternative photographic pieces and objects found on the beach and in local waterways. The found objects? Junk, really. "Detritus" … which sounds more refined.
My three latest pieces combine wetplate collodion photographs with bones and broken china.
The assemblage above began with a Galapagos Sea lion skull a neighbor found on the beach. I borrowed it and photographed it in the studio using an 8×10 large format camera and the wetplate collodion process.  Collodion solution with sensitized silver is flowed onto a heated metal plate. (I used black aluminum.) It is then exposed and processed in the darkroom while wet. It's like a tintype, only on aluminum. Once dry, I flowed warm Sandarac varnish onto the plate to seal it. I then used an engraving pen to give the background a silver corona (I probably shouldn't use that word right now). The exquisite vertebra was found on our beach. I drilled holes and attached china pieces picked from the river mud. The china had been tumbled in sand for 3 days, to remove rough edges. Everything came together and is nicely balanced.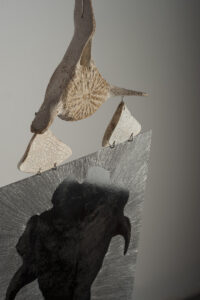 Above is a photo on metal of a dolphin skull. This piece also began with an 8×10 camera and the wetplate collodion process as described above. I used a different type of varnish to give it more of a mat finish. A lovely vertebra, tumbled china and a bead from the river adorn the top.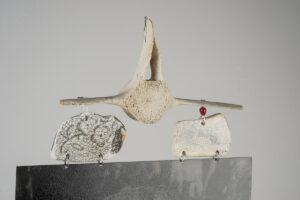 The third piece in this series is another dolphin skull photographed in the studio with a crazy Kathy Ross wearable art piece as a background. Another wetplate collodion work, this was photographed with an 8×10 camera. The patina on the metal attached to the top is fabulous! Straight from the river with only a bit of preservative added by me. I drilled holes and sewed bird skulls onto the metal. The dolphin skull is so bird-like, it deserved an avian corona (there's that word again).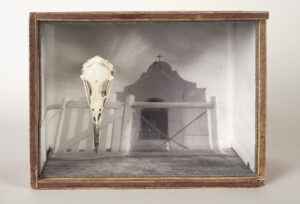 This was my first assemblage. Here's how this piece came about: I first made a pinhole camera from a large Altoids container. The [limited edition] giant sized tin. It accepts 4×5 film or light sensitive paper. I used 4×5, black and white film. I exposed the image then printed it on canvas. I've been thinking about how to use all of the things I find on the beach and in the rivers. I found this cigar box (and a few others) at Washaway beach a while back. I also found the bird skull near here. I embellished the edges with glass beads, and the skull with a tiny rhinestone. A piece of glass slides into the slot where the cigar box lid used to be, making this more or less a shadow box.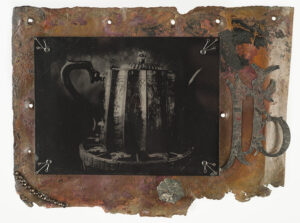 It's all about textures and patina. This is only the second assemblage I'd made. Here's how it came about: I found an old silver-plated teapot in Montana a while back. The silver is mostly rubbed off and I love the look of it! I photographed it with a 4×5 camera using the wet plate collodion process. I drilled holes into the corners and sewed a thread that looks like tarnished silver.
I found the metal base piece in a local river. I cleaned the mud off and sprayed it with an anti-flaking spray that made the colors deep yet kept it from getting a shiny finish.
I bolted the wetplate photograph to the metal, leaving some space so it appears to float. I added touches of treasures found in the river. Like, the metal crown-looking piece.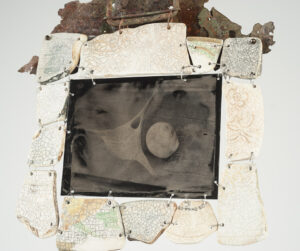 Assemblage #3: Here's how it came about: I found the delicate vertebra and snail shell washed up on the beach at North Cove. I photographed them with a 4×5 camera using the wet plate collodion process. The broken china was picked from our local tidal rivers. I tumbled the pieces for 3 days in beach sand to clean them and smooth the rough spots. I then drilled holes in strategic spots on both the china pieces and the wetplate collodion plate. I balanced everything and attached it together with twisted wire. The buckle and rusty metal (sealed with anti-flake sealer) that it hangs from were also found in the river. It is approximately 8″ wide by 8 1/2″ tall. I learned a lot during the assembly of this piece!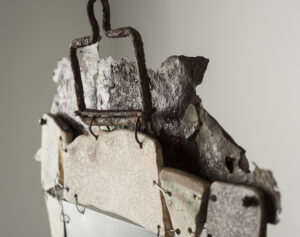 Update 12-20: Here's a couple more pieces I made.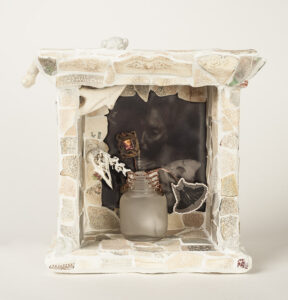 Update 12-22: